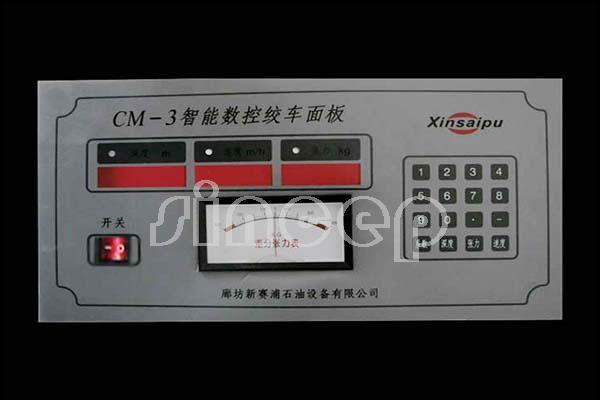 1.Product function:
CM 3 measuringsystem made by CM - 3 intelligent CNC winch panel, depth measuring instrument,composed of a tension sensor and a mechanical counter. The panel can displaythe depth, speed, tension, tension difference and other parameters, and isequipped with sound and light alarm, speed control and output synchronous depthcorrection function. CM-3 has advantages like high precision, large measuringrange and quick response characteristics. The panel operation is flexible,simple operation and easy to master, intelligent keyboard can realize the depthof zero setting, depth correction coefficient setting, synchronous, super heavyset, tension on the zero tension coefficient setting, overspeed alarm settingfunction; the CM-3 has memory record function when power off.
2.Parameters:
(1) depth display:
  1) range:- 99999.99~99999.99 m (bigger than20000 m displays a decimal number)
  2) resolution: 0.01 m
3) accuracy : The error of synchronization correction is less than 0.5‰ (continuous correction depth)
  4) setting:2.9999~9999.9999 (turn valuep/m, synchronous depth calibration can be automatically calibrated)
(2) Mechanical depth display:0.0~9999.9 m (Presetinitial value 0.0~9999.9 m)
(3) speed display:
  1) range:- 99999~99999 m/h (or- 9999.9 ~9999.9 m/min Units are selected by keyboard)
  2) resolution:1 m/h (or 0.1 m/min)
  3) alarm:35~65530 m/h (or 3.5~6553.0 m/min)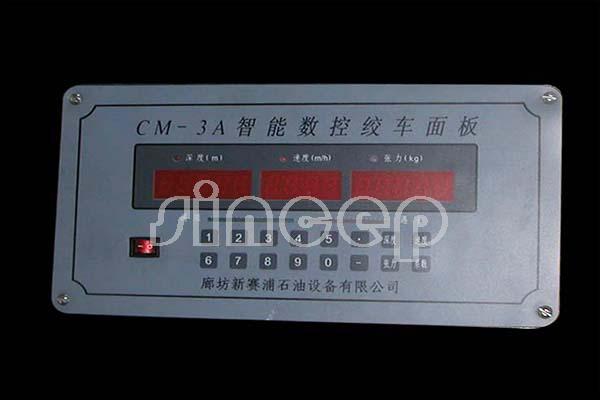 (4) tension display:
  1) range:0~1000 *coefficient kg (Maximum display32760 kg)
  2) accuracy:less than5‰
  3) resolution:1kg
  4) alarm set:50~40000 kg
  5) output control:When the measurement tension is greater than the alarm tension of1.25 times, the relay control output, the output tension continued to maintain8 seconds after the resumption of overload.
  6)sys set:0.100~32.760 (That is to say,the full load ton range can be set directly, or the angle can be automaticallytransferred, and the included angle is 0~162 degrees.
(5) Differential tension:
  1) range:-500 kg/s~500kg/s(frequencies 16Hz)
  2) overload alarm:>400kg/s or <-350kg/s
(6) power: DC18~28V or AC220/110V 50 ~60Hz
(7) environmental requirement :
  1) operatingtemperature:-10℃~70℃ (Specialconditions can be worked at low temperature to -30 degrees centigrade)
  2) Humidity:≥85﹪
  3) Storage Temperature:-40℃~80℃
(8) others :
  1)Dimension:450×230
2)Install size:390×210